LA Health Services Participated in the LA Pride Parade
LA Health Services proudly participated in the LA Pride Parade in the Hollywood area on June 11. This was the first time that LA Health Services, the nation's second largest municipal healthcare system, participated as an integrated healthcare system in the LA Pride Parade.
Our contingent participated in the 1-mile parade promoting our safe and excellent health care services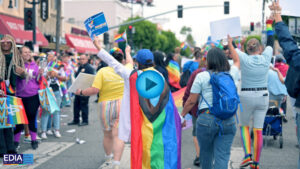 in a welcoming medical environment where LGBTQ+ patients can safely explore their overall wellbeing. LA Health Services is proud to provide high-quality, compassionate, and inclusive healthcare to our LGBTQ+ patients and their families including affirming medical, surgical and trans youth services.
Our participation in LA Pride is another example of how LA Health Services exemplifies its commitment to excellence in patient care and how it provides a venue for workforce members to bring their whole selves to the vital work they perform every day.
Participation in the parade was coordinated by workforce members from our EDIA Sub-Committees and the LGBTQIA2-S (Lesbian, Gay, Bisexual, Transgender, Queer/Questioning, Intersex, Asexual, 2-Spirit) Affinity group.
Dr. Janine Roach from Olive View-UCLA Medical Center, who serves as the co-lead of the LA Health Services LGBTQ+ Affinity Group and Chair of the LGBTQ Committee at Olive View-UCLA Medical Center shared her thoughts on why it was particularly important to participate this year:
"The LGBTQ+ affinity group prioritized marching in the LA Pride Parade this year to demonstrate to the community that LA Health Services (DHS) offers equitable care and support. With the passage of anti-transgender healthcare legislation around the country, we are proud to work for an organization that provides LGBTQIA2S+ inclusive and gender affirming care. It was amazing to have staff and volunteers from so many DHS facilities walk together in solidarity! We not only had a fun time marching and making new friends, but we also hope that our presence at LA Pride established us as an agency that strives each day to push for a strong and healthy LGBTQIA2S+ community."
Angel Martinez, the Director of Community Engagement at Community Programs in LA Health Services stated:
"Marching in the LA Pride Parade is about visibility and honoring our pride. It's about embracing our true selves, as we celebrate our LGBTQIA2-S community together with our LA Health Services team. Seeing so many LA Health Services staff members showing pride and paying tribute to the courage and resilience affirms the support we need as LGBTQIA2-S community members. LA Pride Parade celebrates our legacy by living authentically, loving fiercely, and standing strong together as queer people of color."
Olive View-UCLA Celebrates Pride Month
By Janine Roach, M.D.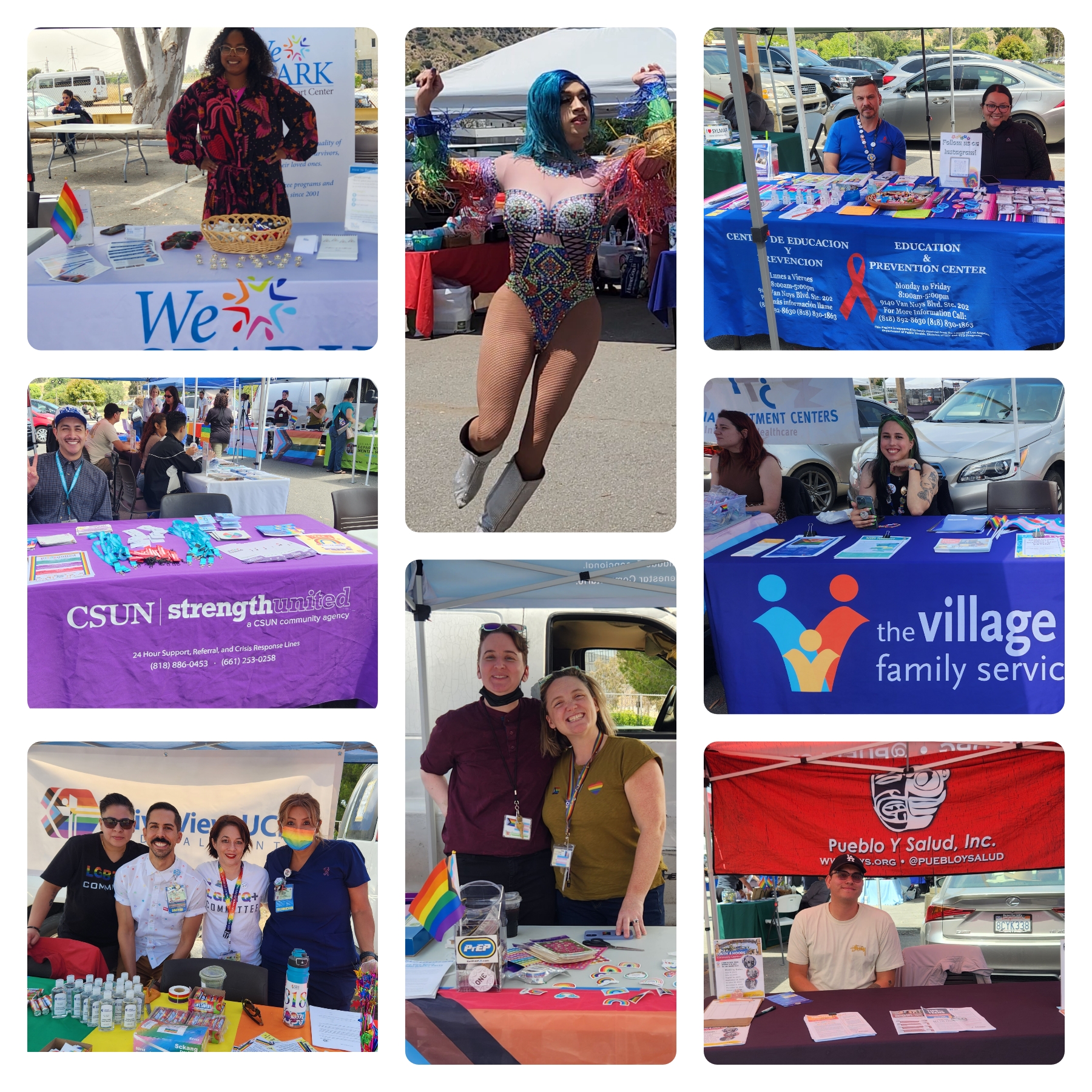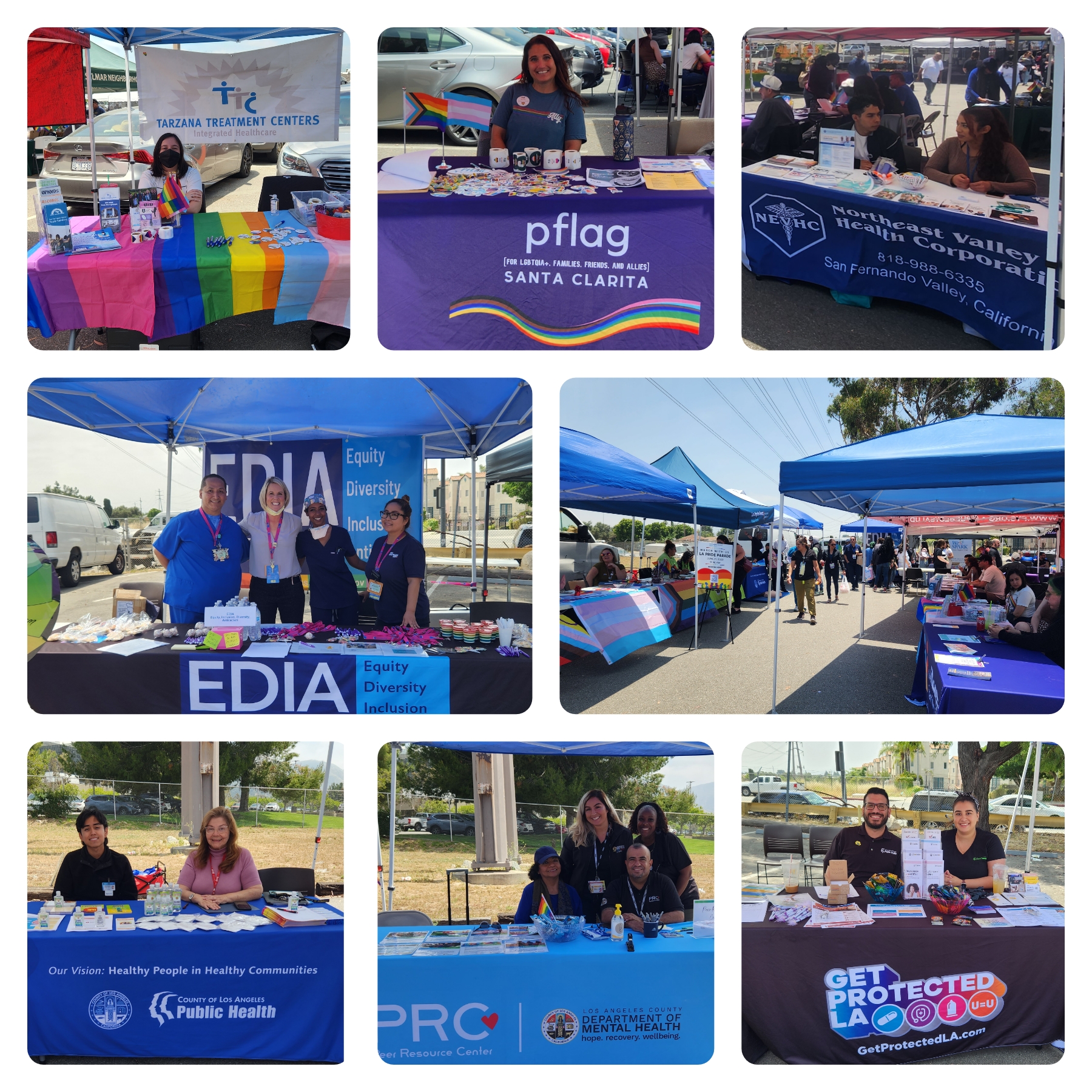 This month, Olive View-UCLA Medical Center and LA Health Services celebrates those who are fighting to create a more equitable, inclusive, just, and loving community. We recognize the pride and courage of our lesbian, gay, bisexual, pansexual, transgender/gender diverse, intersex, two-spirit, and queer co-workers, patients, friends, colleagues, and family members. We acknowledge the years of structural and systemic injustices faced by this community, and the strength it takes to survive and thrive in a world that has not always been supportive.
At Olive View-UCLA Medical Center, we celebrated Pride with our 5th annual LGBTQ+ Pride Resource Fair. We had over 200 attendees as well as 15 of our community partners, treats for everyone, a prize giveaway, and a special performance by Divinity. It was wonderful to see so many members of our community in attendance.
Although June is officially Pride month, there are many ways to support the LGBTQ+ community throughout the year!
Become familiar with the DHS-Wide Policy Care of the Transgender Patient.
Did you know LA Health Services (DHS) provides expert level gender affirming care through the Gender Health Program? This can be accessed through a submission through the transgender/gender health e-consult portal. Patients can ask their primary care provider for a referral.
Share the numerous LGBTQ+ resources found on our LA Health Services Internet sites, such as those found on the Olive View-UCLA LGBTQ+ information page.
If you'd like more information or to get involved with our LGBTQ+ efforts in LA Health Services, please email jroach@dhs.lacounty.gov
Celebrating PRIDE Month at Rancho Los Amigos National Rehabilitation Center
In honor of PRIDE Month, the Rancho Los Amigos National Rehabilitation Center (Rancho) LGBTQ+ Committee and EDIA Initiative were proud to celebrate and promote diversity by highlighting poster displays that included equality and inclusion, training educational resources through the LGBQ+ Health Education Center and the CAL, Human Rights Campaign and anti-discrimination laws, campaigns against hate crimes, unique artwork, and LGBTQ+ individuals who have made an impact.
Rancho also hosted a LA Health Services LGBTQ+ Employee Panel: A Discussion on Being "Out" at Work on June 18th at the Auditorium and on Teams.  In addition, we held a PRIDE Resource Fair in collaboration with several community organizations in the Don Knabe Plaza on June 27th.  Patients, visitors, leadership, and workforce members joined the celebration and embraced diversity and inclusion.
The focus on Lesbian, Gay, Bisexual, and Transgender, Queer and Questioning (LGBTQ+) inclusion and equity is reflected in Rancho's designation as a "LGBTQ+ Healthcare Equality Leader" annually since 2018 to present, achieving the highest possible score of 100. The Human Rights Campaign's Health Equality Index (HEI) survey requires facilities to meet four core objectives including: non-discrimination and staff training; LGBTQ+ patient services and support; LGBTQ+ employee benefits and policies; and LGBTQ+ patient and community engagement.  Rancho continues to provide a safe and welcoming environment for patients, visitors, community, and inclusive workforce members.