LGBTQ Health Information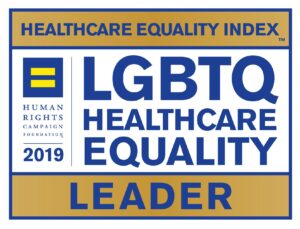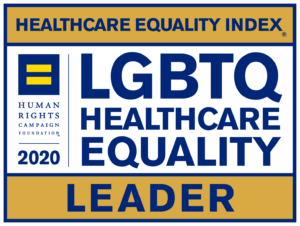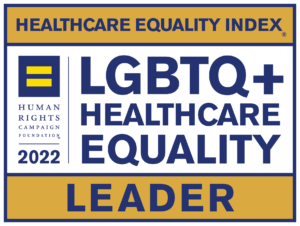 Thank you for considering Olive View-UCLA Medical Center as your source of healthcare.  Olive View is committed to providing high-quality, compassionate and inclusive healthcare to our Lesbian, Gay, Bisexual, Transgender, Queer and Questioning (LGBTQ+) patients and their families.   We understand how important it is to receive healthcare in a setting where you feel comfortable, open and safe with your provider team.
As part of Health Services, we take pride in building a diverse community of workforce members who reflect the spirit of the communities we serve.  Listed below are hospital policies that define our LGBTQ+ practices as well as links to community resources to assist you on your journey to good health.  If we can offer personalized assistance or help answer any questions you may have, please reach out to us at OVMLGBTQ@dhs.lacounty.gov
We look forward to welcoming you into our community of care, and hope you will consider joining us on your path to health and wellness.
LGBTQ Friendly and Knowledgeable Providers
Olive View-UCLA Medical Center is dedicated to providing a safe, welcoming environment for LGBTQ+ patients.  The providers below have requested to be on our list of LGBTQ+ Friendly Providers.
Emergency Medicine
Greg Moran, MD
Pamela Dyne, MD
Obstetrics and Gynecology
Lisa Garcia, MD
Michelle Han, MD
Lirona Katzir, MD
Masaru Negi, MD
Endocrinology
Nasser Mikhail, MD
Medicine
Soma Wali, MD
Pediatrics
Shannon Thyne, MD
Joseph Rojas, MD
Bahareh Gordon, MD
Kelsi McCoy, MD
Psychiatry
Janine Roach, MD
Benjamin Woo, MD
Davin Agustines, DO
Iljie Fitzgerald, MD
Jeffrey Cardenas, MD
Valery Chamberlin, MD
Department of Rehabilitation
Leanne Stein, M.S., CCC-SLP Speech Language Pathologist
Myisha Jones, Recreation Therapy
Surgery
Jane Yang, MD
Transgender Health Services
DHS is proud to provide transgender knowledgeable and specific care. For more information on transgender care or for a referral, please speak to your primary care provider.
Alexis Project at LA General
Transgender Care Policy
California Department of Healthcare Services Statement of Nondiscrimination on Gender Identity and Sexual Orientation
LGBTQ Health Information
Would you like more information about LGBTQ+ specific topics, such as cancer, PrEP, HIV and other concerns of the community? The links below may be helpful.
CDC on LGBTQ+ health. Includes health topics for gay and bisexual men, lesbians and bisexual women, LGBT Youth, transgender individuals, HIV/AIDS. 
Cancer Facts for Lesbian and Bisexual Women
Cancer Facts for Gay and Bisexual Men
Information regarding PreP and PEP in LA County
Get PrEP LA
National LGBT Cancer Network
Hospital Policies
There are policies in place to prevent discrimination and protect the rights of patients, faculty, staff, visitors and the hospital community. For further information on specific policies, please read below.
Patient Rights
Visitors Policy
LA County and State Policies
Los Angeles County and the State of California have policies of equity regarding gender identity and expression and sexual orientation. Specific documentation is listed below.
County Policy of Equity
County Policy of Equity Updated
County Policy of Equity and Reporting
Equal Employment Opportunity and State Policies
Gender Non Discrimination Guidelines
Los Angeles County Board of Supervisors Policy of Equity
LA County Employment non-discrimination

State/National Resources
Bisexual Resource Center
Advocacy and Services for LGBT Elders
Still Bisexual
GLBT National Hotline (888) 843-4564
LGBT Center Directory
LGBT National Help Center
Trans Can Work
Transgender Health Care Clinics
If you are a transgender person, accessing the right health care resources can be difficult. Below are clinics and programs that may be helpful.
Transgender Health Care at St. John's Hospital
(323) 541-1411
Warner Traynham Clinic
326 W. 23rd Street
Los Angeles, CA 90007
genderhealth@mednet.ucla.edu
(310) 267-4334
CHLA Transgender Youth program
5000 Sunset Blvd. 4th floor
Los Angeles, CA 90027
(323) 361-2390
Medical care, hormone therapy, consultation with gender specialists to gender-questioning individuals age 25 and under.
Transgender Services at Los Angeles LGBT Center
Friends Community Center TransAction Program
(323) 463-1601
Support groups and life skills groups for transgender women
LA Care Health Plan TransHealth Program
transgenderhealthprogram@lacare.org
213-694-1250 ext. 4267
1055 West 7th Street 10th Floor
Los Angeles, CA 90017
Local Community Resources
Safe spaces in and around our community which provide support groups, counseling and social services for people across the gender and sexuality spectrum.
The Village Family Services
6736 Laurel Canyon Blvd., Suite 200
North Hollywood, CA 91606
(818)755-8786
L.A. Gay & Lesbian Center (LAGLC)
1625 North Schrader Blvd
Hollywood, CA 90028

(323) 993-7500
(323) 993-7669
Individual, couples, group counseling; short term psychotherapy; anger management; substance abuse, domestic violence, transgender counseling; hormone therapy, lesbian and transgender health; HIV services; legal services, 12 step
Los Angeles Gender Center
1923 1/2 Westwood Blvd. Suite 2
Los Angeles, CA 90025
(310) 475-8800
Psychotherapy for individuals, families and groups related to gender identity, sexual orientation and sexual health.
Asian Pacific Islander AIDS Intervention (APAIT)
1730 W. Olympic Blvd. #300
Los Angeles, CA 90015
(213) 553-1830
Provides transgender support, HIV/AIDS prevention, substance abuse treatment, case management (do not need to be Asian/Pacific Islander or HIV+)
LA County Department of Mental Health- Lancaster
Specialized Foster Care Program and GA Administration
(661) 471-1164
HIV/AIDS Resources
AIDS Project LA
611 S. Kingsley Drive
Los Angeles, CA 90005
(213) 201-1621
Counseling, psychotherapy, substance abuse services for individuals with HIV/AIDS
AIDS Healthcare Center
4940 Van Nuys Blvd.,Ste 200
Sherman Oaks, 91403
(818) 380-2626
Medical Clinic, diagnosis center, HIV testing services
The Wall Las Memorias
(323) 257-1056
The Wall-Las Memorias Project is a community health and wellness organization dedicated to serving Latino, LGBT and other underserved populations through advocacy, education and building the next generation of leadership.
LA County Division of HIV and STD Programs
(213) 351-8000
DHSP@ph.lacounty.gov
Tarzana Treatment Centers HIV Services
LGBTQ Older Adults
Advocacy and Services for LGBT Elders
Senior Services at Los Angeles LGBT Center
The Village at Ed Gould Plaza
1125 N. McCadden Place
Los Angeles, CA 90038
(323) 993-7400
LA County Workforce Development, Aging, and Community Services
(213)738-2772
LGBTQ Youth
Support for LGBTQ and questioning youth and young adults under age 25
Tarzana Treatment Center's Valley Street Smart
18700 W Oxnard St Tarzana CA 91356
818-996-1051 ext 3103
UCLA EMPWR Program for LGBTQ Youth
Teen resilience group ad mental health services
760 Westwood Blvd.
Los Angeles, CA 90095
Colors
3435 W. Temple St. Los Angeles CA 90026
(213) 417-3420
Lifeworks LA (for young adults)
Substance Use Rehabilitation and Treatment
LGBTQ+ friendly treatment programs
Royal Palms Residential Alcohol and Drug Treatment program for the LGBTQ Community
360 S. Westlake Avenue
Los Angeles, CA 90057
LGBTQ 12 Step Meetings in Los Angeles
Friends Research Institute
1418 N. LaBrea Ave.
Los Angeles, CA 90028
(323) 463-1601
Español
¿Habla Español?
TransLatin@ Coalition
1730 W Olympic Blvd., Suite 300
Los Angeles, CA 90015-1007
Contact: Email: memberservices@translatinacoalition.org
Somos Familia Valle
Contact: Ronnie Veliz
(818) 428-0120
Ronnie.Veliz@somosfamiliavalle.org
Bienestar Human Services
8134 Van Nuys Blvd., Suite 200
Panorama City CA.91402-4818
(818) 908-3820
Mi Centro
553 S. Clarence St.
Los Angeles, CA 90033
Hours: Mon – Fri: 9 a.m. – 5 p.m.
Domestic Violence and Hate Crimes
Have you suffered intimate partner violence or a hate crime? Some of the resources below inform you of your rights and actions you may take.
Strength United
(818) 787-9700
24 hour crisis response line:
(818) 886-0453
(661) 253-0258
Strength United is dedicated to ending abuse, empowering families and developing leaders.
Domestic Violence Legal Advocacy Project at Los Angeles LGBT Center
1220 N. Highland Ave.
Los Angeles CA 90038
(323) 993-7649
Email: dvlap@lagaycenter.org
LA Dept of Public Health Site on Intimate Partner Violence
Documents
Crime victims, know your rights
Hate crimes/Crimenes de odio
Legal Aid
Have you been a victim of discrimination due to your sexual orientation, gender identity or gender expression? Have you been unable to access medical care? There are agencies available to help.
Lambda Legal Location: Western Regional Office 4
221 Wilshire Blvd., Suite 280
Los Angeles, CA 90012
(213) 382-7600
FAX: (213) 351-6050
Asian Americans Advancing Justice Los Angeles
1145 Wilshire Blvd (2md Floor)
Los Angeles, CA 90017
(213) 997-7500
CARECEN
San Fernando Valley
16501 Sherman Way, Suite 245
Van Nuys, CA 91406
(213) 385-7800 ext 136
Contact: Tessie Borden – Community Liaison
Transgender Law Center
PO Box 70976
Oakland, CA 94612-0976
(510) 587-9696