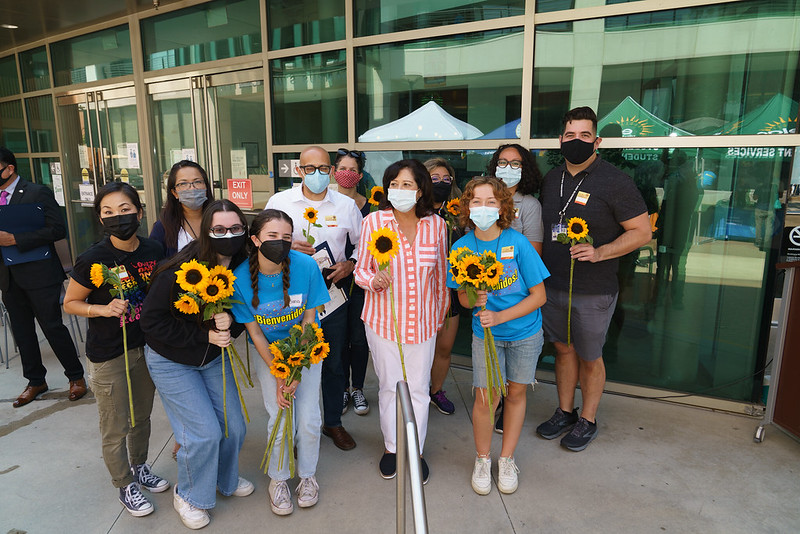 Photograph taken by Chris Valle
LA County Department of Health Services staff participated in a welcome fair on Saturday, September 25 for unaccompanied immigrant children and their families. The event, held at East Los Angeles College, connected families with health, legal and social services. Attendees listened to immigration legal orientations, received employment guidance and learned how to get food and other resources.
Some of the youth had been housed at the Pomona Fairplex emergency intake site before being reunited with relatives in LA County. Families received information about the My Health LA program and about Health Services clinics and hospitals. MHLA program advocate Francia Nava and Eligibility Review Unit Supervisor Ernesto Reynoso told attendees how they can find a doctor and enroll in health insurance or coverage.
The Los Angeles County Office of Immigrant Affairs and LA County Supervisor Hilda Solis co-hosted the event. Several MHLA Community Partners, including South Central Family Health Center, Clinica Romero, Chinatown Service Center and St. John's Well Child & Family Center, also participated. The celebratory fair featured cultural performances and speeches by East Los Angeles College administrators, elected officials and community and faith leaders. "I am so thankful to today's partners in helping us make sure that youth and their sponsors receive the support they need to live healthy and productive lives," said Solis, chair of the LA County Board of Supervisors.