A cancer diagnosis can be life changing for the patient and their loved ones. There are medical procedures to undergo, decisions to be made and rapidly changing circumstances to navigate. We know from research that the body responds to the way you think, feel and act. The "mind/body connection," when faced with the diagnosis and treatment of cancer, can lead to changes in quality of life, trigger stress, sadness, anxiety and related feelings that impact the course of treatment and health outcomes. The patient can suddenly require more support for activities of daily living than they have ever needed. Learning how to cope with the adversity from a cancer diagnosis is an important part of health and mental health outcomes—for a lifetime.
This is where Cancer Care Navigators come in. Cancer Care Navigators work closely with the medical team to establish responsive engagement with patients to explore and integrate health and mental health treatment and recovery service options. Cancer Care Navigators use culturally and linguistically sound methodologies, accepted research about cancer care, data-based decision-making, dissemination of education and awareness materials, and coordination of linkages to community resources through the cancer care continuum.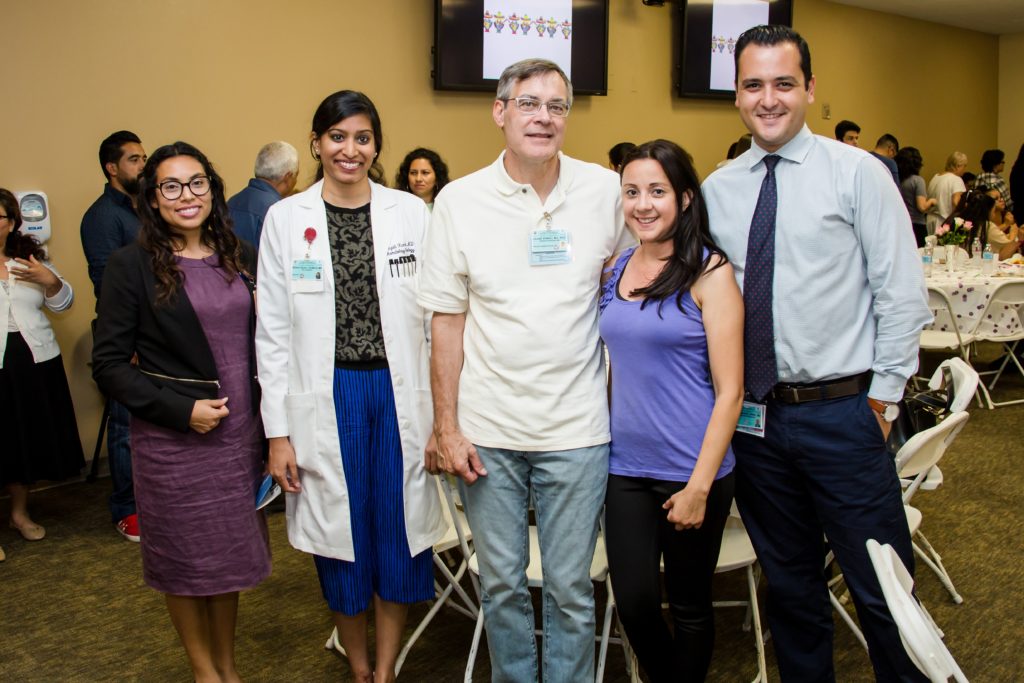 Health Services is currently launching a new standardized Cancer Care Navigation Program at Olive View-UCLA, Harbor-UCLA, LA General, Martin Luther King, Jr. Outpatient Center and High Desert Regional Health Center. The program is intended to increase patient access to quality care. The timing is critical because the pandemic caused many patients to skip routine cancer screenings and are subsequently showing up with more advanced disease. The program is being planned and implemented by leaders knowledgeable in the field including Dr. Leland Powell, Dr. Wei-An (Andy) Lee, Dr. Evan Raff, Charmaine Dorsey, Bahar Basseri, Clinical Social Work Chiefs, Oncology Leads at each facility and Facility Administration. The program is evidence-based and patient-centered, drawing from the success of the Cervical Cancer Care Navigation Program, founded over nearly a decade ago at Olive View-UCLA Medical Center by Dr. Christine Holschneider. The new program will provide a framework to ensure the approach is standardized across Health Services hospitals and will inform workflow, processes and duty statements to facilitate data collection. Having evaluation built-in with process improvement in place, ensures that quality can be measured, and data can be collected.
The team implementing the program includes the new Clinical Social Work Chief at LA General Medical Center. Leticia C. Lara, MSW, LCSW, has had an impressive career dedicated to the fields of mental health, infant and early childhood development and reducing mental healthcare disparities. She has used her work to influence policy to help reduce health disparities and improve patient outcomes. In her new role building the capacity of the new countywide Cancer Navigation Program, Ms. Lara brings a unique perspective to the role through her professional training and through a very personal journey as a cancer survivor. After a breast cancer diagnosis in 2008, she found herself in an unfamiliar situation that required a coordinated care approach to navigate the complex world of cancer treatment. She considers herself lucky because her breast cancer was caught early during routine screening. She also felt privileged to be able to select her care team and to draw strength from friends, family and peers that helped her along in her journey navigating different health care providers and their corresponding treatment plans. In some ways, her new role at LA General embraces her many roles as a scholar-practitioner, patient advocate, a breast cancer survivor and now a local leader empowering patients to obtain high quality care.
She and the team of experts planning and implementing the new Cancer Navigation program are advancing efforts to establish an innovative approach tailored to provide culturally and linguistically appropriate services based on research, evidence and promising practices. This will result in high quality care for the multi-ethnic, under-resourced and vulnerable patient populations, like the ones we serve. Ms. Lara notes that the teams will be bilingual, bicultural brokers of knowledge to create a system of support for patients and their families.
The model for the new navigator program is drawing on the experience of the Cervical Cancer Care Navigation Program (CCCNP) and the Breast Cancer Navigation program both implemented at Olive View-UCLA Medical Center. The pilot was grant-funded by the UCLA Jonsson Comprehensive Cancer Center and UCLA's Women's Clinical Research Unit for 8½ years. Elizabeth Pineda serves as the Gynecologic Oncology Navigator and has championed the care of patients diagnosed with cervical cancer since 2012. The program assesses social needs and assists patients in overcoming barriers such as transportation, poverty, disability, insurance, food insecurity, housing insecurity, drug abuse, and emotional support. Ms. Pineda has improved patient access to services and fills an active role in providing continuity of care and coordination, serving as a trusted resource for patients and physicians. Over time, the Gynecologic Oncology (Gyn/Onc) department has collaborated with Olive View-UCLA's registered dietitians, the psychiatry service, social workers, and outside mental health providers to offer comprehensive cancer care in the Gyn/Onc chemo clinic. The CCCNP was recently published in Cancer, Socially determined cervical cancer care navigation: An effective step toward health care equity and care optimization1. This article showcases the significant positive impact of cancer care navigation in improving the timeliness of guideline-based care and patient treatment outcomes. This program is proof that in having a Cancer Navigator, our doctors and patients feel well supported throughout the delivery of cancer care. The program has earned a 2016 Gage Award through America's Essential Hospitals and was a Quality and Productivity Award Recipient receiving the Commissioners Legacy Award of the Los Angeles County.
Ms. Pineda notes that the longevity of the program has resulted in meaningful community partnerships with organizations like the Cancer Support Community, We Spark and the American Cancer Society (ACS). The ACS has donated wigs and helped establish the first DHS wig bank available at no cost to any patient.
Ms. Pineda noted that one of the most rewarding moments in her career has been the annual Cancer Survivor Celebration that has, at its peak, included more than 160 patients and their families. With the current expansion of this program, the 5-year Cancer Survivor Celebration will include many more people in the future.
If you would like to learn more about the program, please contact Charmaine Dorsey at cdorsey@dhs.lacounty.gov
1Dessources, K, Hari, A, Pineda, E, Amneus, MW, Sinno, AK, Holschneider, CH. Socially determined cervical cancer care navigation: An effective step toward health care equity and care optimization. Cancer. 2020. https://doi.org/10.1002/cncr.33124