This year for National Hospital Week Harbor-UCLA Medical Center (Harbor) had a week full of festivities. This year's theme was "We are Health Care." Special events were held each day tied to Harbor's True North.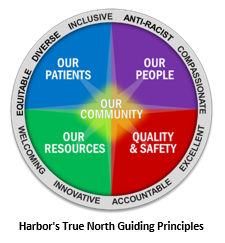 Monday was all about Our People – staff had the opportunity to express gratitude for their colleagues by writing notes of thanks and putting them on display so everyone could see just how much we appreciate our wonderful staff.  Tuesday we all wore red to symbolize our commitment and focus on Quality and Safety and had fun learning more about how we can make Harbor a safer environment for all. Wednesday was filled with staff proudly wearing blue and honoring Our Patients, we took a moment to reflect on patients that we lost during the pandemic and affirmed our commitment to providing our patients with equitable and exceptional care. Thursday was all about Our Resources, our Lean education/Kaizen Promotion Office hosted a great fair and shared excellent Lean education resources.
This year we held our first Hospital Week Essay Contest where staff were asked to write about what being an Essential Worker means to them and we received some great submissions. Congratulations to our winners! They won some excellent prizes.
1st Place – Jason Gibson, Biomedical Waste Technician, EVS
2nd Place – Lidia Pedroza, Nursing Attendant I, Emergency Department
3rd Place – Tamara Boudreau, Intermediate Clerk, Guest Services
We closed out National Hospital Week with Carnival Day and what a great day it was! Harbor's Spring Carnival was filled a wide assortment of games, many of which were handcrafted by our very own Facilities Management team, like Harbor Toss and Strike Out COVID Bowling, as well as the Carnival entry arch. It was so nice to come together and celebrate the amazing teamwork and dedication of our staff with such a fun event!  Here is a short video of the event, click here to watch.