Who We Are – Health Center
The Martin Luther King, Jr. Outpatient Center (MLK OPC) plays an essential role in the health and well-being of residents in South Los Angeles and surrounding communities. High-quality primary and specialty care services are complemented by wellness and prevention programs for the family. The Outpatient Center is the centerpiece of a new medical campus that offers integrated outpatient, inpatient, and mental health services. Clinic leaders and staff are committed to providing compassionate, high-quality care that improves the health of patients and their families. The Martin Luther King, Jr. Outpatient Center is operated by the Health Services, and is part of the Los Angeles County Ambulatory Care Network (ACN).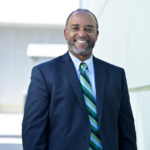 Michael Mills, MHA Director
Michael Mills serves as the Director of the Martin Luther King, Jr. Medical Group, which includes the Martin Luther King, Jr. Outpatient Center. He directs the operations of primary care, specialty care and urgent care services. Prior to this role, Mr. Mills served as the Director of the Metro Health Care Group (MHCG), where he oversaw the H. Claude Hudson Comprehensive Health Center and the DHS Adult Medicine Clinic at Curtis Tucker Health Center. Mr. Mills also  previously led the the operations of the LA General Medical Center Violence Intervention Program (VIP). In that role, he planned, organized, and directed daily operations of the VIP, which included the Center for the Vulnerable Child, the Sexual Assault Center, the Elder Dependent Adult Abuse Program, Community-Based Assessment and Treatment Center, LA General East San Gabriel Valley Satellite Medical Hub, and the Los Angeles County Elder Abuse Forensic Center. Mr. Mills also served as the Assistant Administrator for Probation Health Services with Health Services. Mr. Mills has dedicated his career to helping at-risk children and underserved populations in Los Angeles County to access high quality health care.  He received a Bachelor of Arts degree from Chapman College and a Master of Health Administration from the University of Southern California.

Ellen Lerner Rothman, M.D.Chief Medical Officer
Ellen Rothman, M.D. oversees the delivery of clinical services and works alongside the executive team to develop dynamic new programs. She brings a deep commitment to improving the health of the residents of South Los Angeles. Dr. Rothman has spent her career working with underserved communities both in South Los Angeles and on the Navajo Nation during her six years spent with the Indian Health Service. Dr. Rothman completed her medical training at Harvard and her Pediatric Residency at the Boston Children's Hospital.

Lessie Barber, RNNursing Director
Lessie Barber has dedicated her career to the County of Los Angeles. She is responsible for all areas of nursing services and provides direct support to the Central Sterile Unit, Urgent Care, Referral Center and several clinics. Ms. Barber received her Bachelor of Science Degree in Nursing from the University of Southern Mississippi and a Master Degree in Public Administration from the University of California, Dominguez Hills. Prior to her role as the Nursing Director, she began as a Supervising Staff Nurse in Ambulatory Care and was promoted to Nurse Manager. She served in Nurse Staffing Operations, later as the Patient Flow Manager and excelled in Patient Flow/Bed Management, Nursing Informatics and Patient Classification Systems.

Osahon Ekhaese,
MBA, FACHE, CPHQ
Associate Administrator
Mr. Ekhaese is currently the Associate Hospital Administrator at MLK OPC.  Prior to joining MLK OPC, Mr. Ekhaese was an Assistant Hospital Administrator at Harbor – UCLA Medical Center. Before joining  Health Services, he was employed by Kaiser Permanente where he served as Director of Revenue Cycle for the Greater Alameda Service Area for 7 years and was responsible for the oversight of Revenue Cycle Operations for the area.  He holds a B.S degree in Healthcare Administration and an MBA from the University of Houston – Clear Lake and is a Fellow of the American College of Healthcare Executives (FACHE) and a Certified Healthcare Quality Professional (CPHQ).