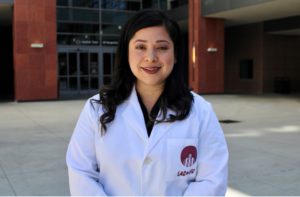 Congratulations to Erica Flores Uribe, M.D., M.P.H. for being honored with a Los Angeles Healthcare Award from the Patient Care Foundation of Los Angeles County.  According to the Foundation, "the annual Los Angeles Healthcare Awards honors LA County's top physicians, healthcare leaders and institutions for their work to improve healthcare in LA County. Honorees include individuals and organizations whose outcomes are positively impacting the lives of LA County residents and improving our local communities." Dr. Flores Uribe received the Hospital Physician Leadership Award. She currently serves as the Director of Language Access and Inclusion, Director of Covid-19 Testing and the Equity Collaborative at LA General Medical Center. Congratulations Dr. Flores Uribe!
Congratulations to the Office of Diversion and Reentry's Medical Director Dr. Kristen Ochoa. Dr. Ochoa has been chosen as the first recipient of the Judge Stephen S. Goss Memorial Award for leadership by a psychiatrist, in recognition of her work in helping people with behavioral health needs in the criminal justice system. The award involved a national nominating and selection process, and Dr. Ochoa rose to the top of a very impressive group of nominees. The award is given by the Judges & Psychiatrists Leadership Initiative (JPLI), a project of the Council of State Governments Justice Center and the American Psychiatric Association Foundation. It aims to stimulate, support, and enhance efforts by judges and psychiatrists to improve judicial, community and systemic responses to people with behavioral health needs involved in the justice system. The award will be presented at the virtual JPLI summit on Wednesday, May 12 from 5:00-6:30 PST. Congratulations Dr. Ochoa!
Congratulations to the MAMA's Neighborhood team whose success in reducing preterm birth rates for Black birthing people have been published in the May 2021 issue of NEJM Catalyst Innovations in Care Delivery. This work represents a critical step forward in closing the birth equity gap in our community. The article is called, "MAMA's Neighborhood: Reimagining Prenatal Care to Support Mothers and Reduce Stress."
Cathy Chidester, Director of Los Angeles County Emergency Medical Services was interviewed by the Hospital Association of Southern California (HASC) on the County's response to Covid-19.  Please click here to see the interview and obtain the link to the corresponding podcast.