Quality & Patient Safety
At Olive View-UCLA Medical Center, our ongoing commitment to quality and safety are at the core of our values.  Quality encompasses everything we do: how we care for patients, how we work to ensure not only their health and safety but that of our employees, and how we contribute to the overall health and well-being of our communities.  Together with our patients and their families, we each play an important role in the delivery of quality care. We constantly strive to improve how we provide care and enhance our patient experience.  We work hard to maintain a culture that empowers everyone to feel ownership over the care and service we provide.  We frequently measure data to help us evaluate outcomes, optimize care and adjust, when needed, to continuously improve.  We compare ourselves to the performance of other hospitals as well as nationally recognized quality and safety organizations.  Each year, we identify goals that are aligned with DHS strategic initiatives and implement processes to support success in meeting those.
Leapfrog
As part of our commitment to providing safe, high-quality care, Olive View-UCLA Medical Center participates in the Leapfrog Hospital Safety Grade program.  Leapfrog measures publicly available safety data to grade more than 2,600 acute care hospitals twice per year.  For Spring 2021, the hospital scored better than the national average for the following measures: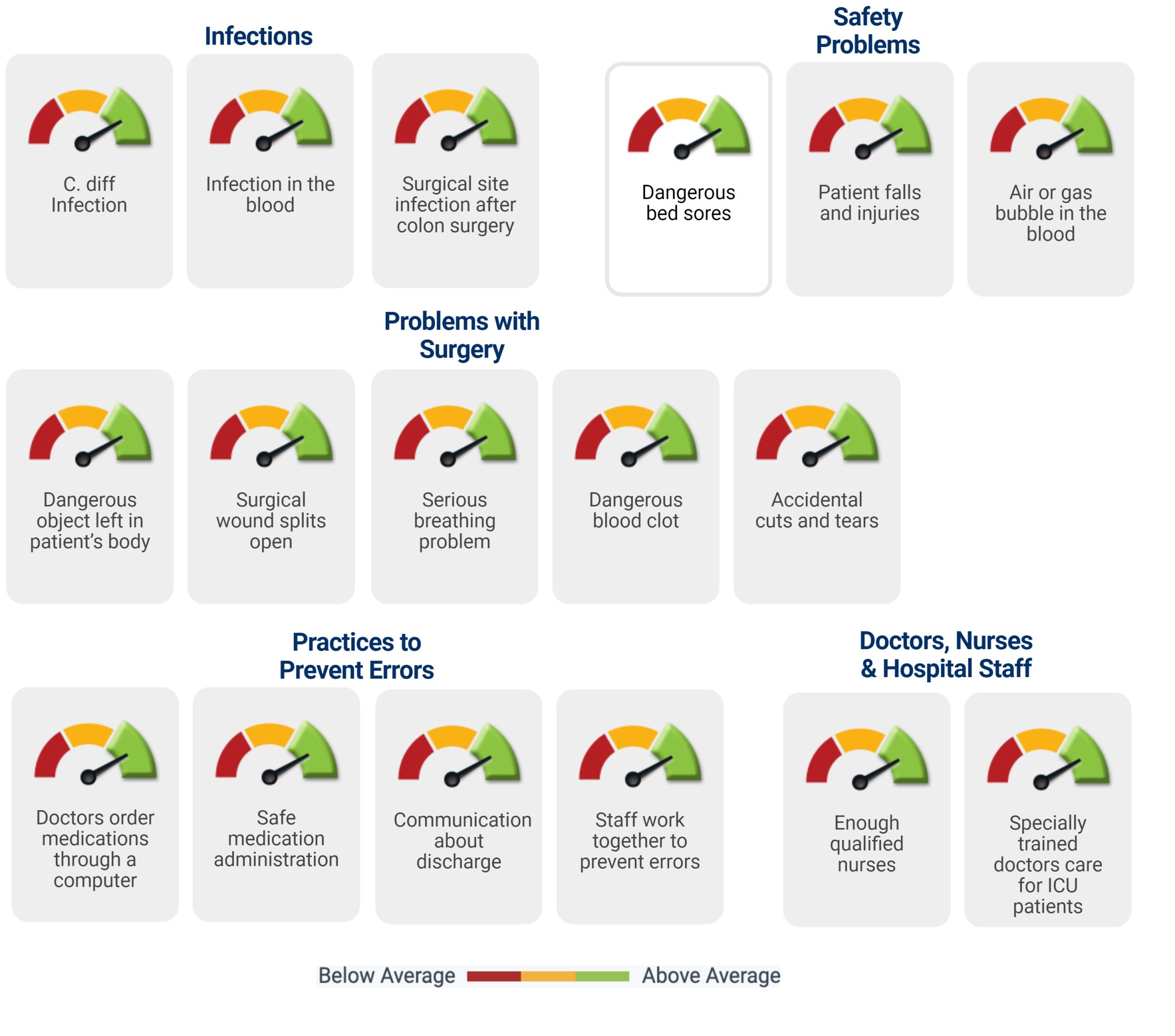 Olive View-UCLA Medical Center was designated as one of Newsweek's Best Maternity Care Hospitals 2020 based on standards for excellence in maternity care, including achieving low rates of C-section, episiotomy and early elective deliveries, and following crucial protocols to protect mothers and babies.
Quality Programs 
Olive View-UCLA Medical Center participates in a number of quality programs aimed at achieving large-scale improvements in healthcare.  We have exceeded established targets for several nationally recognized quality measures across the continuum of care.
HbA1c Control                            

 

Clinical Depression Screening

 

Tobacco Assessment and Counseling

 

Blood Pressure Control

 

Abnormal BIRADS Follow-up 

 

Breast Cancer Screening

 

Cervical Cancer Screening 

 

Colorectal Cancer Screening 

 
Safety Huddles 
Each day, frontline workers, managers, and leadership convene for the Daily Dose, a core activity for promoting a culture of safety.  These daily huddles provide a forum to share safety concerns and identify opportunities for improvement.  They increase safety awareness among front-line staff and set the tone for a working environment characterized by collaboration and collective awareness of risks and concerns. They also present opportunities to educate, reinforce and motivate teams on current and future safety initiatives.
Patient Experience 
The Consumer Assessment of Healthcare Provider and System (CAHPS) is a series of patient surveys rating health care experiences that are demonstrative of quality patient care.  Olive View-UCLA continues to exceed targets in key measures of patient satisfaction and has shown improvement on others.  Our patients consistently give us high marks for hospital rating and recommending us to others.