Family Pact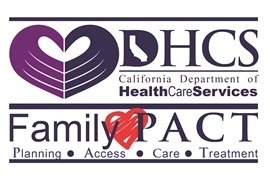 The Family Planning, Access, Care, and Treatment (Family PACT) program provides low-income women, men and teens with access to health information, counseling, and family planning services to reduce the likelihood of unintended pregnancy and maintain reproductive health.
Family PACT provides no-cost family planning services. Reproductive health services (such as sexually transmitted infections and cervical screening) are covered when the services are provided as part of, or a follow-up to, a family planning visit. Family PACT does not cover primary care services.
If you are a current Health Services patient, talk to your provider about whether Family PACT is right for you. If you are not a current Health Services patient, visit one of the clinics below where staff will help you determine if you are eligible for Family PACT and other health coverage programs.
Click HERE to learn more about the Family PACT program