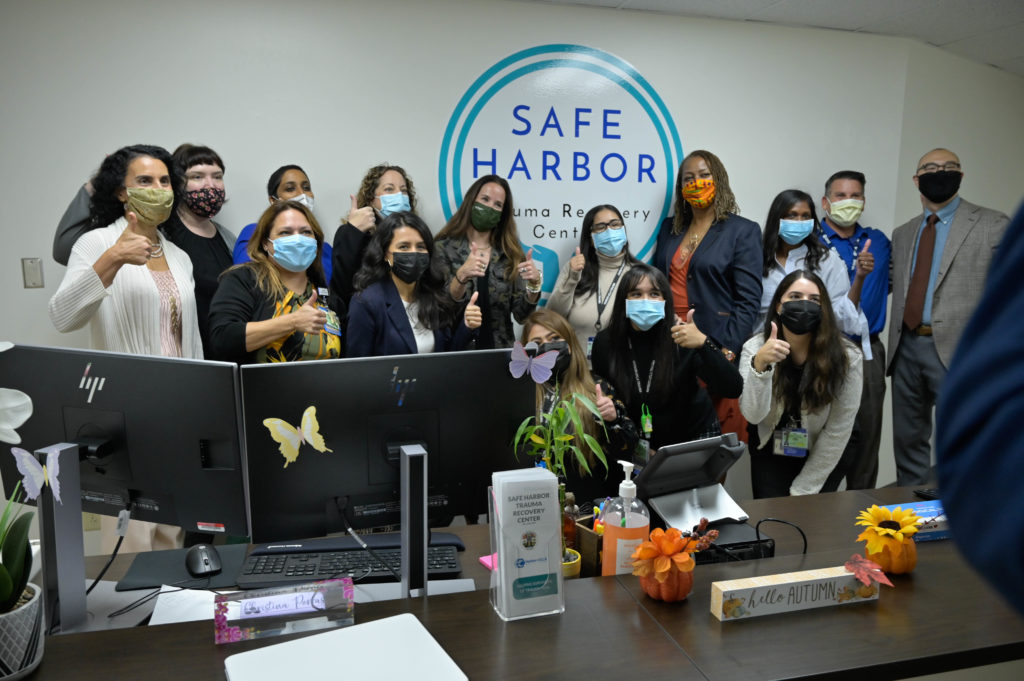 Harbor-UCLA Medical Center welcomed First Daughter and advocate Ashley Biden on October 14, 2021. She toured the Safe Harbor Trauma Recovery Center (TRC). As a social worker, Ms. Biden appreciates the importance of this vital resource that brings healing and vital resources to survivors of violence and interrupts cycles of harm.
The Safe Harbor TRC was established in July 2019. It is fully funded by the California Victims Compensation Board. It provides dedicated short-term case management and therapy to victims of violence and trauma regardless of insurance and immigration status. Harbor-UCLA Medical Center hosts one of the few hospital-based TRCs in LA County and is the only program affiliated with a hospital-based violence intervention program (HBVIP).
To date, the TRC has provided services to over 350 patients ranging in age from 3 to 81. The range of traumas include gunshot wounds, physical and sexual assault, domestic and intimate partner violence, trafficking, and physical and sexual child abuse. Services are also provided to family members who have witnessed traumas, including the families of homicide victims. Referrals to the TRC come from within the hospital inpatient and outpatient units and from community-based partners.
The TRC serves clients from all over LA County and some from Orange County, with an emphasis on those individuals that reside within SPAs 6 and 8. Additionally, the TRC provides training sessions within and outside of the hospital. The training sessions are offered for hospital sheriffs and security officers and include de-escalation strategies and skills when interacting with agitated patients.
The Team consists of: 1 program coordinator, 1 community health worker, 1 medical case worker, 2 social workers, 3 psychologists, and 1 part-time psychiatrist
The Leadership team consists of: Administrative Director – Natasha Thomas, MD, MPH (Department of Emergency Medicine), Clinical Director – Dorit Saberi, Ph.D. (Department of Mental Health), Case Management Director – Jefferson Young (Department of Social Work) along with Consultant – Vince Chong, MD, MS (Division of Trauma Surgery, Director of Hospital Based Violence Intervention Program)