PTI Medical Director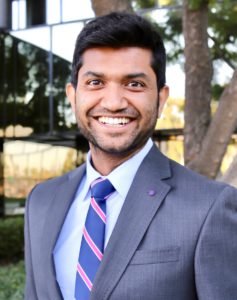 Dipesh Patel MD, DTM&H, FACEP.  
Contact Information:
E–mail: DPatel6@dhs.lacounty.gov
Office Phone: (562) 378-1576
Residency in Emergency Medicine: 
Harbor-UCLA Medical Center, Los Angeles (CA) 
Fellowship in Emergency Medical Services:
Harbor-UCLA Medical Center, Los Angeles (CA)  
Areas of Interest: 
Education
Urban Search & Rescue (USAR)
Disaster Planning
Longevity Science 
Dr. Patel is the Medical Director of the J. Michael Criley Paramedic Training Institute at the Los Angeles County EMS Agency. He grew up in Kenya, where he was involved in rescue efforts during the US Embassy Bombing in 1998, before going on to obtain his undergraduate and masters degree from Oxford University in the UK. He subsequently moved to the United States and obtained his medical degree at University of Pittsburgh School of Medicine. He has a wide array of post-graduate clinical experience working in inner city training hospitals, private practice, as well as more underserved rural areas and continues practicing clinically. He is board-certified in both Emergency Medicine and EMS, and holds advanced training from the London School of Hygiene & Tropical Medicine. 
Dr Patel serves as a physician and certified Medical Team Manager for the Los Angeles County Fire Urban Search & Rescue (USAR) Team, one of only two FEMA teams in the country that embarks on international operations on behalf of the US Government. He deployed with the team to the Mexico Earthquake in 2017.   
He is passionate about clinical education, non-pharmacological approaches to health and longevity, and holds a wide range of experience in international health systems development, having been involved in both governmental and non-governmental projects.